What is CRM: A Comprehensive Guide for 2023
Customer relationship management (CRM); refers to managing the life cycle of marketing, sales, after-sales, and customer experience processes. CRM is a kind of business software that helps people to manage their customer communications, sales activities, service processes, and marketing campaigns. CRM is created as a tool to strengthen the sales and marketing process.
A CRM system provides a centralized core that holds all the data for your business contacts and offers, deals, etc. Naturally, this might be your customers, prospects, suppliers, etc. Over time, the system will build up a history of your interactions with each contact.
These CRM interaction records may include 
Emails

Calls

Meeting notes

Assigned tasks and reminder emails

Quotations and offer letters

Marketing Campaign statistics ( E-mail Marketing, SMS M

arketing )

Discount requests

Contracts and different versions of contract revisions.

After-sales service records

Customer Satisfaction Surveys
The importance of these features at CRM is that everything you need is 
In one place (all the customer data is at your hand)

Easy to reach for analyzing and taking a sales or marketing action

Comparable with the previous time frame or different sales
reps.

Thus, it gives you clear visibility of your sales pipeline.
CRM software helps companies stay connected to customers, implement sales and marketing activities and hence improve profitability. CRM enables you to forge a much stronger connection and a deeper relationship with your clients and prospects.  Also, CRM tracks and analyzes all calls, emails, social media messaging, ERP records, and meetings in order to boost sales and increases profit ultimately. In addition, CRM with business intelligence and marketing automation tool; enables you to segment your market and products. Consequently, you may add value to the regular data you handle to make your sales and marketing smarter, more potent, and more effective.
CRM software platform is a technology used to bring sales and marketing together, create value for the customer and increase sales. CRM technology handles the end-to-end sales  & marketing processes. It covers topics such as knowing the customer, keeping contact information, opportunity management, sales management, sales process management, customer information analysis, and customer insight.
CRM solutions are dramatically evolving from being the customer-facing and the customer-touching software into a platform that provides actionable insights into your own business. Data and interactions served across the platform are key in solving managerial challenges. This is the insight into your sales, marketing, and support teams, this is the insight into your brand and the product of your hard work reaching the customer.
 CRM helps manage relationships between stakeholders within your own company, not anymore just managing customer relationships.
CRM stands for Customer Relationship Management, which is any system or approach that helps a business organize and access its customers' data. In this article, we will take an in-depth look at what is CRM software, what are its different types, the benefits of using a CRM system, the features of CRM, and why it's so important to use CRM in 2023. We offer a fresh look at How to choose the right CRM for your business? as well.
Let's get started.
A Simple CRM Definition: What Does CRM Mean in Simple Words?
As a simple definition, CRM is a compact software solution that enables you to focus on your organization's customer relationships. Business relationships may include individual people as customers, prospects, service users, or suppliers. Therefore, CRM Software is defined as a new business management tool focused on creating value for your customers to sustain long and healthy relations with your stakeholders.
Simply put, CRM software lets you organize and access data pertaining to your customers digitally. This includes customer information, sales interactions, activities, deal stages, metrics, uploaded files, product sales tracking, marketing, and customer support interactions. Inherently, this may include all the other information that your business knows about this particular customer.
Let's get rid of all the confusions we have about the CRM word itself and similar words:
In daily life, usage of the "CRM" Wording might be tricky, as it might be unclear which of these "CRM, CRM Software, CRM Solution, CRM Tool, CRM Platform, CRM System" is meant as the definition. 
To be straightforward and realistic; practically all these notions are the same.
Most probably, if you have heard someone saying anything about Customer Relationship Management, he or she means CRM as a software ( CRM Software), which is also called as a tool for managing customers ( CRM Tool ), which in turn can be defined as a customer and sales management platform ( CRM Platform ) 
Consequently, all the different modules and features of CRM combined, one may define CRM as a complete customer business solution ( CRM Solution ) or an as a robust all-in-one sales management system ( CRM System )
One of the other of us might subjectively use tiny differentiations in the CRM meaning for those different CRM definition forms; however, it ultimately appears all of a piece in the business and software world.
Far from being simply a tool for tracking and reaching your customers, CRM software provides invaluable insight into your own business. It helps build a meaningful relationship between your company, your product, and your customers.
CRM stands for business software systems designed to manage interactions among customers, prospects, and sales marketing professionals.  Clearly, the goal is to help your business grow steadily. Hence, CRM enables to improve longer-lasting relationships with customers. That means, CRM drives business growth and increases customer loyalty. Many years ago, just large companies could work with the CRM system because of the prices. Nowadays, all kinds of businesses have access to affordable CRM software options.
A rational system should contain a clear definition, as our minds understand, and comprehend rational issues easily. If we define something, it easily sets to the learning area of our brains. Thus, we may willingly implement what knowledge tells us. Therefore CRM stands for Customer Relationship Management that is a strategy in which a company creates a sustainable level of engagement with its clients. A sustainable level of engagement is more than awareness and light communication. Let's make this notion more clear! 
At business level, Customer Relationship Management ensures to create partnerships, instead of transactional relations. At individual level, it develops brand's identity, instead of just increasing its recognition.
CRM software supports us in monitoring, evaluating, and drawing conclusions about the history of all the interactions with a customer or client. For example, you called a relative on the phone and sent a message. You can view the call logs and messages of that person on the phone. From here, you can find out that you have had little or no communication with this relative lately. 
While managing our customers as businesses, CRM has to demonstrate convenient answers to those questions about the client interactions:
"When did we last meet with our customers?"

"When did we send an e-mail?"

"When did we talk on the phone?"

"When was the last time our customer bought a product from us?"

 "When was the last time we reached our customer?" 
We can see the answers to the questions on CRM. Thanks to the answers to these questions, we can be aware of the customers even without recent direct communication.
In order to avoid missed or delayed communication with customers or potential clients, actions can be taken to call and message over certain periods via CRM thanks to the auto reminding e-mails or automated workflows functions. When the notes about all these interactions are recorded in different media (Excel, Word, Docs, etc.), a scattered structure may occur. A CRM system is required to get rid of a messy structure. 
Thanks to CRM software, you can quickly access all activities with customers through a single system. Customer relationship management software positively affects our relationships with our existing customers and turns our potential customers into active customers.  For companies that place the customer as the main focus of the operation, the most important factor is the customer itself. Being in the center of the customer is one of the best management methods. CRM is a system where all interactions with customers are collected.
The advantages of using CRM Software are not just about running a business and managing the associated relationships. Ideally, a CRM system should help your business improve relationships with existing customers, find new customers, and retain old customers and turn them into repeat buyers. CRM is software that makes it easy to collect, organize and manage customer information. A CRM system can be very beneficial for both small and large businesses as long as it is implemented properly.
As CRM Magazine states,
the majority of US businesses that employ 10 or more people now use CRM.
This is a convenient signal that CRM is now becoming a must-have for all medium-size or large companies, as it can incredibly surge customer satisfaction and closed-won deal rates. .No matter who uses a CRM or what size of the company uses CRM, there is a high chance of being successful at growth, sales increase, or customer satisfaction, if CRM becomes a part of the company process flow smoothly. Hence the question we should answer at first is :
What type of companies use CRM?
It's understandable that a software package doesn't fit all. Therefore, segmentation should be considered, even for selecting a CRM System. What matters at selection criteria, is considering the size of a company and pure business needs. What we witness in the field is that every size or every sector is a good candidate for CRM usage. What makes the difference in gaining success for using a CRM is the following factors and conditions, which puts CRM an inevitable choice of selection: What type of companies use CRM indeed?
Any company that aims for growth
Any company that hires sales representatives
Any company that utilizes any type of marketing activity or marketing campaign
Any company that sends quotations and offers
Any company that has an idea of what "customer lifetime value (CLV)" is about
Any company that aims for growth
CRM systems appear to perform best when it comes to a desire for rapid and enormous growth. Generally, this requires an entrepreneurship mindset and courage to try new things. According to Capterra 's CRM User Research,
51% of the companies started to use CRM in their first 5 years of foundation. The companies, started using CRM even within very first 2 years, reach 38%.
Hence, in order to be able to achieve high growth rates, companies at an early stage adopt Customer Relationship Management solutions, to make huge sales afford manageable and result-oriented. 
Let's make it simple:
Growth means high increase at sales and revenue. Demand and revenue increase results from many sales activities like meetings, cold calls, hot calls, quotations etc. The more sales activities a company undertakes, the more complicated it becomes to manage . Hence, you need a powerful Customer and Sales Management Tool ,in order to back up all the growth activities like deals, campaigns, offers and customer feedbacks.
Any company that hires sales representatives
If you employ sales reps, you have to track their performances and customer interactions. Questions like " how many visits are made to customers by a sales rep? " or " How did the customer react to our last discounted offer?" can be easily answered when you use a CRM. On the other hand, if you don't utilize any CRM tool, how can you manage to have an eye on each sales rep and how can you guide them to gain the customer as sales director?
If we are to ever stay competitive in today's marketplace, it is important that organizations take steps towards automating or, at the very least, implementing CRM processes that can save time and money as well as improve processes (e.g., via analytical reports, minimize and/or eliminate the time it takes to reschedule bills, etc.). SalesForce Automation software including CRM's can also often improve sales rep (employee) performance as Sales Directors can easily gauge/monitor each employee's direct performance to deadlines, and then provide feedback and analysis based on best practices. Utilized properly, Sales & Marketing Managers can train by even offering direction but not have to perform supervisory tasks. CRM software can really help manage the sales meeting process and focus everyone on the results that are most important to the lead, not work spending hours on things that do not matter or that are not the most important. Utilizing yesterday's best practices and systems for today's and new uses (e.g., self-service, e-mail marketing, client portals, "point of entry" systems, RPA's ( Robotic process automation, etc.) can help with smoother and more efficient sales processes.
Any company that utilizes any type of marketing activity or marketing campaign
The point of having all this information in an automated marketing system is to bring it into play in real-time so no information is lost or inaccurate. This makes for more direct interaction with your prospects. A marketing strategy works the same way. You are working on your strategy by collecting your prospects' names and contact information. But even though you are getting information, there is still more that you can do with the information. You can find out which parts of your strategy are working and which need to be fine-tuned. You can work on different aspects of your marketing campaign at different times of day and then use all the metrics to bring them back to the roots of your marketing strategy to fine-tune your marketing process. Then, when it's time to re-discover parts of your marketing strategy, you have all the important information to guide you.
For example: you still need to track leads, analyze your profit and loss statements, and push your prospects to take action. It is all too easy to get lost in analyses while you have your marketing automated.
But chances are there's a big window of opportunity where your fancy technology really has no room for creativity or customization. So the solution is to incorporate a database and CRM into your marketing process. Good marketing technology allows you to create and follow up to venues or events that bring your prospects and current customers in.  
If you really want to take advantage of technology, then you need to look at a pure CRM with a marketing automation solution. However, as with all things in life, your marketing organization will have to retool and integrate your CRM into your marketing plan. You don't have to change recipes, tools, and vulnerable components of your marketing plan.
A good marketing automation solution is one that includes technology in all aspects of the process like a database, CRM, and lead management. It is all scheduled and attended by people on a regular basis. Individuals can add content when they have time and tailor it to their schedule. Automation includes helping quality control and subject matter experts gain fluency and push content to the right audiences. Why a great marketing automation solution only works if you have a strategy is the next question.
The right answer is "your marketing plan implemented on your CRM Software" for a basic joined-at-the-hip, network-centric single marketer. Yes, the world is changing fast, and keeping up is a pain, but you need to monitor the inputs and outputs and adjust your marketing plan to real-life situations. There ARE people who get tired of putting energy into their marketing plans ‖ maybe you are one of them. If you are a service professional or a B2B business in a large company, you hold your team accountable. Does that sit well with you?
Each year, thousands of marketing plans are recorded and accumulated by marketers in many companies. But when they reach their expiration date, they are discarded in a hurry. Using a good template and a useful CRM tool is a great way to make sure those impressive plans really reach your prospects and customers while saving you time and money. And the best part is, they're actionable and measurable. 
Start making your marketing smarter, simpler, and more effective.
Any company that sends quotations and offers
Is there any B2B company, which doesn't send any single quotation or offer to a prospect? I don't think so. 
So it is inevitable to adopt a software solution which 
Tracks all the previous offers at one place

Centralizes quotation data like price, conditions, payment terms 

Scores the leads so that you know which lead to focus at most

Creates quotation in-house and sends it through the same software
No matter how big or small your company is, those four items are mandatory if you want to see happy faces after an offer has been sent to the customer and evaluated consequently.
CRM tools can help simplify our interface with clients, i.e, improve our response time to quotation requests, complaints/questions/messages by having all the relevant data in one place for management to access direct.  Finding and accessing client and deal information can be done via a variety of methods, e.g., document import, table imports, and field/ parcel extractions.
More and more people are turning to online CRM software for a variety of reasons. Some companies have begun to realize that despite all their business processes, the management of their quotations and leads is still the business process that excels at creating opportunities for them to foster growth, cut back on costly employee expenses, keep their offers up to date, and improve efficiencies. Other companies are looking for "best- ideas" for sales management strategies that will help them add clients more quickly and more efficiently. For these companies, using online customer management software gives them both. These companies were the first to realize lead management software was one of the cornerstones of business growth and success.
Any company that has an idea of what "customer lifetime value (CLV)" is about
As an extended model, the Customer Life Time Valıue (CLV) can also map different phases of customer acquisition and care in order to align marketing campaigns with special customer requirements. For this purpose, the duration of the client's life is divided into different cycles. For example, first customer contact, relationship building, individualization, cross-selling, or retargeting. How the individual phases are designed depends on the aim of the survey. Various options are available here so that, for example, new customer acquisition, existing customer care, or customer equity can be used as a modern parameter for the entire customer base. The latter aspect forms the theoretical basis for calculating the CLV so that the entire importance of a customer for the company is viewed as an investment with an expected profit.
It's about how much money we're likely to spend:
A telephone provider, for example, could calculate how much money we will bring to the company in the time that we will likely be a customer there. If we are loyal customers with an expensive contract, we could, for example, receive preferential treatment on the hotline as an advantage. Or we get a great offer so that we don't change providers.
Customer Lifetime Value is the name of the new rating system for customers It works like this, for example:
If we visit a pub for the first time, we are simply any guest and therefore a customer. If we go to this pub more regularly, we will eventually have a beer on the house - later maybe even a few peanuts with the beer. The bar owner does this because we, as regulars, are worth something to the shop.
In the meantime, many companies are doing it similarly to the pub owner - they bind consumers through advantages: The companies can offer these advantages because they collect a lot of customer data. On the basis of this data, they calculate how much money they can earn from each person. The companies proceed independently of the consent of the consumers.
Having explained examples of LCV, if you are aware of how important CLV is, you'll probably want to keep data and analyze them using the following data set:
When was the last time you bought something?

How often did you go shopping?

What was the value of the purchase?
In order to have all this data at hand easily, you have to adopt a CRMat your company. Furthermore, CRM tools enable you to have a visual aspect of LCV, in tables or graph form so that it helps you in sales strategies decision making.
What are the advantages of CRM? Why is CRM important in business?
The fundamental advantage of CRM derives from a very simple fact: Gaining new customers is more difficult than keeping existing customers. 
A Capterra research report states that
CRM software has the highest impact, i.e other words the most crucial advantage,  on customer retention rates  (%47) and customer satisfaction rates (%47) according to respondents.
It is easier to satisfy the current customer. In order to have a sustainable company structure, it is necessary to satisfy the existing customer. The service received by the customer should be several times more than the price and expectation of the customer. The way to retain existing customers is through effective customer relationship management. Retaining existing customers (customer retention) results from good customer relationship management. When customers are retained, they become brand advocates.
Why CRM is important for business?
Customer relationship management (CRM) shows the principles, practices, and guidelines. Thereby, the organization develops while interacting with its customers. Moreover, this whole relationship encloses direct interactions with customers. That's why CRM is important for businesses either B2B or B2C. For instance, sales and service-related processes, and analysis of customer trends and behaviors should be interrelated. Ultimately, CRM in business ends up improving the customer's overall experience and performance.
Customer relationship management is a very important tool to improve a company's product or service. Surveys can be conducted through customer relationship management. It can be learned how satisfied the customers are with the service provided. Customer relationship management also increases definitely customer conversion rate.
On the other hand, CRM proves itself best, when it comes to Professional Services Industry. The underlying fact of this phenomenon is as follows: Services industry needs always new customers. New customers mean automatically new deals to track and new campaigns to be made. CRM plays a great role in centralizing the client data and use it as a decision support mechanism for Managers. Furthermore, not only in the sales process but also during the after-sales process, CRM is a huge advantage for sustainable success: Customer support can be easily managed and operated using CRM solutions like client portal, service, or ticketing modules.
Let's dive deep and see the most common advantages of a CRM System:
CRM Advantages: Results Oriented
Easy Tracking of Sales Revenue and

Key Metrics

Effortless Tracking of  Customer Interactions

Improved Customer Retention Rate

Higher Customer Satisfaction

Sales Revenue Increase

More Upselling / Cross-selling opportunities

Improvement in Business Process Efficiency

To minimize the loss of information

Reduce marketing costs

Discovering new customers while protecting old customers

Generate higher quality leads
CRM Advantages: Operation Oriented
Centralized Customer Database

Centralized Emails

Quick and easy access to information

End-to-end Customer Support

Easy Information Exchange Platform within a company

Align sales & marketing 

Understand buyer & customer behaviors 

Addressing directly the location of the lead in the marketing funnel
All-in-one sales force management
Visualizing the revenue upcoming revenue potential easily
No gray areas in the deal follow up
Advantages of CRM in Sales
Advantages of CRM in Marketing
Advantages of CRM in Customer Services
Advantages of CRM in Operations
Features of CRM : What Should Be Considered When Choosing a CRM Tool?
Customer relationship management features can be defined as an organized approach to developing, managing and maintaining a profitable relationship with customers. CRM is about monitoring and reviewing every interaction and communication we have with our customers and prospects.
Basically, the customer relationship management system provides the company with a central pool that simplifies, secures, and scales interactions with the customer.
CRM softwares should be able to manage our marketing processes, We should be able to market in the form of upstream and cross-selling, We should be able to carry out appropriate marketing to new and existing customers, We should be able to send appropriate campaigns, e-mails, and e-newsletters to the customer, In short, we should be able to actively manage marketing.
We must be able to market in accordance with the marketing funnel:
It should contain the AIDA (Attention, Interest, Desire, Action) marketing funnel model. In order to see the customer's attention, interest, desire, and action, there must be contact management. We should be able to filter the information of the contacts. We should be able to see all our conversations with our customers through a single system. We should be able to learn which conversation we had, which e-mail we sent, what happened after the sale, the rate of complaints, and the satisfaction rate.
If it is related to the sales process, we should be able to see the documents about how many times we sent proposals and how many meetings we held on the system, if we won or lost the customer, we should be able to enter notes about them. If we are interviewing thousands of contacts, we should be able to see and manage who is talking to whom.
In the after-sales process, we should be able to see the satisfaction rate of our customers. It needs to be a tool to see how we can increase customer satisfaction and see what we can do with up-selling and cross-selling.
What are the most common and most desired CRM Software Features?
 Quoting research done by Capterra, CRM features used at most are as follows:
Calendar Management

Email Marketing

Quote Management

Marketing Automation Integration

Lead Scoring
As one can deduct from that research,
%52 of all CRM users utilize CRM for the Calendar Management, which proves the fact that Software Providers have to to focus on the very basics.
Capterra's research states that the most desired features of CRM differ heavily from the most used CRM Features. You may find the most desired CRM features as follows:
Social Media Monitoring

Pulls-In Contact Social Media Profiles

Mobile App

Customer Loyalty Tracking

E-Commerce Integration

Territory Assignment
To clarify the existing feature set of CRM Tool, let's focus on the roots of CRM utilization purpose. Hence, let's divide the CRM feature set into 3 main blocks: 
Sales Management

Marketing Management 

Service ( Customer Support ) Management
Customer Relationship Management Functions: Sales Management
The core function of a CRM lies in organizing all the sales processes from scratch. Sales Management is such a complicated task that it can not be efficiently handled without a help of a proper CRM System. Let's see what elements do a Sales Management function of a CRM include: 
Software for Contact Management
A typical contact management software as a CRM Module include:
A comprehensive database that stores all the details of contact such as organization, offers, billing, etc.

Business-related details 

Calendar and planning functions for setting up meetings and reminders.

Integration with third-party apps for communication - emails, phone calls, and SMS.

Reports and analytics allow you to extract relevant data from multiple sets of data and use it to make informed decisions to increase profitability.
There should be a system in which dozens of activities can be filtered instantly. Contact management allows you to store and manage contact information. Basically, it has databases that track all your information and communications based on your contacts.
Firstly, every business owner recognizes managing contacts is an obligation. Not only CRM keeps your contacts organized, but also it goes one step further. So, it allows you to get information from your customers better. You can store the basics about your customer base. Moreover, you may customize your contacts with information about their interests and how they interact with your company. Managing your contacts with this feature helps you create lasting relationships with your customer base.
CRMs not only enabled easier access to information across the company but also enabled end-to-end tracking of the customer journey. Adopting CRM over contact management was a breeze because of these powerful benefits.
You can see every detail about the opportunities. You can access information about the interviews, emails, social media communication, and meetings about the prospects and lead-related documents.
Sales pop up not only from direct customers but also from prospects. In order to keep an active eye on prospects, you need to have a useful CRM tool to identify, tag, track, analyze and activate potential customers, i.e prospects. For example, if you tag an initial contact as a prospect, you may be able to send them attention-drawing campaigns or offer special first-buy discounts automatically. Furthermore, you may be able to assign your sales rep to visit the prospect regularly.
Consequently, you may be able to gain the prospect as a customer, if Customer Relationship Management is applied strategically and utilizing proper software.
Deal management has become more and more important within the marketing organization, especially as customer channels have increased. For this purpose, it is defined as a process and system in which the marketing organization manages data related to offers and messages over channels.
Inevitably, your sales department works hard to make a deal. In order to stay motivated and successful, sales people need some insight into future sales. With the deal management feature, you can predict future revenue, create milestones, or automate follow-ups. You don't need a huge sales team to benefit from this feature, and it scales well as the department grows.
The lead Management module enables you to collect and manage leads as they are captured. Furthermore, you may view lead tracking data so you can understand which sources bring your most valuable leads. Consequently, it shows you an overview of how your sales funnel functions.
Finance is not everything for a company, but almost everything. Every manager wants to increase its sales and marketing. In fact, making customer relations stronger leads to lower costs for a firm.  So interestingly, finding new customers generally requires too much more sources than making new deals with the current customers. Source particularly means money! Therefore, if a company aims to develop its finance, the Lead Management feature of the Customer Relationship Management tool is such a milestone.
Communicating with contacts and colleagues is essential. Then, CRM's online scheduling feature makes finding a date for appointments and meetings a breeze. Thus, you don't have to worry about anyone saying they missed the invite. Furthermore, due to effective Calendar Management, you can easily organize all the events and meetings in one place. You may set appointments, meeting and manage your calendar using the calendar management function.
Using the Quote Management feature of CRM Software, you can manage your offers and create new quotes at the push of a button :
Create inquiries and offers in CRM and thus always keep an overview of the services offered

Add relevant documents (e.g. sent offers) in any file format as an attachment

Use the offer overview with information on the offer date, customer, offer amount, order probability, resubmission date, and contact history

Have the expected order total displayed clearly in a report at the push of a button

Offers can be created either independently of one another or as part of a coherent process chain.

Offers and all associated processes (a campaign or marketing automation chain) can be displayed and edited in just one screen at the same time.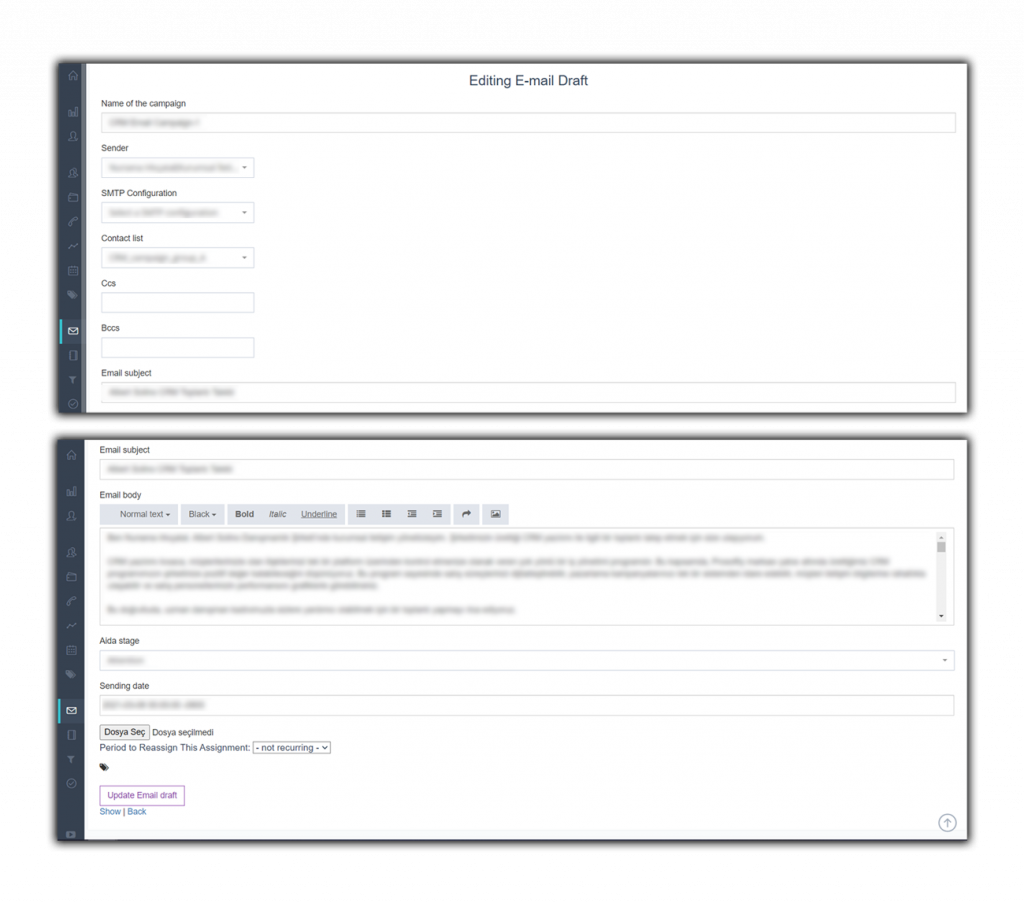 The basis for success is a professional appearance and this also includes being able to prepare a professional quote or offer letter. A decisive competitive advantage can be achieved by creating the perfect quotation. The offer management of CRM software puts you on the right track and helps you with your first step to success. It is very easy and extremely flexible to create, send, track and analyze offers/quotations with the help of CRM software.
Task management is a way of dividing the entire project into a series of tasks that need to be done.
Task management forms the basis of the collaborative project management discipline. Done correctly, it offers companies an efficient workflow process that becomes the central instrument for carrying out all of their joint projects or customer relations. Managing tasks isn't easy, but with the right system and the right task-sharing apps and tracking tools, professionals can ensure their projects, sales processes, or customer support activities run smoothly from start to finish.
As business collaboration transforms, task management best practices and CRM professionals collaboration tools help create a common to-do list, enabling sales, marketing, and customer support team members to:
Know their priorities at all times

Stay in sync

Keep their workload balanced

Successfully meet their deadlines

Never miss a sales meeting or a deadline for the quotation.
Above all, knowing exactly what to do when and in what order also reduces anxiety and stress in the workplace.
SalesForce Automation is the process of planning, recruiting, training, organizing, supervising, and coordinating an organization's sales force.
Naturally, a business can't be successful without its marketing and sales teams working together. Instead, they should avoid any confusion about tasks or project status. CRM makes you sure about synchronizing your teams. In short, with CRM Software's sales force automation tools, you can prevent miscommunication and enforce effective sales force utilization.
The data owned by the employees leaving the job is not lost. For example, one of your salespeople has quit. When this person leaves his job, he has taken a lot of information with him. With the software, the data of the person will never be lost since they will be stored in the system.  
In addition, CRM Tool has to provide the opportunity to connect sales opportunities to the sales personnel, to see the performance of the salesmen on the dashboards, and to provide the system integration (import of contacts) for the Sales Force Automation module.
Territory Assignment is defined as a CRM system by that clients are classified using an outlined set of criteria. This enables you straightforward distribution of client accounts among sales groups in your company. the territory management feature of typical CRM enables you:
Create territories and set criteria that define a territory.

Build a territory workflow additionally to the default workflow automation in your account.

Access standard reports on territories like Revenue By Territories, etc.

Design custom reports on territories.

Get the territory related data by filtering easily
Contract management is the process of managing contracts, deliveries, deadlines, contract terms, and conditions while ensuring customer satisfaction.
It often happens that contracts are not extended or terminated in a timely manner. Current contracts were not mapped, nor was the current status. Many organizations lack any type of contract management process.
Initiating any type of contract management when there are already dozens of ongoing contracts can be a daunting task. CRM with Contract Management module comes up with 6 benefits of contract management tool
Contract expiration dates are always known

The online archive replaces the physical documentation

Contracts are available anytime, anywhere

Automatically post recurring invoices in accordance with the contract

Order from contracts

Supplier performance is measurable and informative
Combined with automated invoicing, this can ensure that the process is as efficient and reliable as possible. This is interesting for both the purchasing department and the sales department. Ultimately, the digital comparison of invoices with contracts and other data prevents the company from carrying out an incorrect, fraudulent, or incorrect transaction.
Systematic evaluations only extend advantageous contracts. Automated notification to the budget officer ensures that renewals are never overdue or forgotten. The bottom line: contract management software pays off.
The functionality of CRM: Marketing Management
Many CRM solutions offer features to manage and organize online and offline marketing measures. Social media monitoring functions are important but still rare at the moment.
Marketing functionalities in CRM tools - helpful questions:
Which marketing measures can be organized?

Is it possible to integrate third-party providers?

What restrictions are there (number of emails that can be sent, branding when sending emails "sent by ..."?

What are activities that are triggered due to certain actions?

Are we able to Personalize emails before sending them?

Are we able to Send Later / Snooze on emails?
Customer management covers all systems, processes, and applications required to manage customer relationships. Customer management systems and applications (also known as CRM or Customer Relationship Management) are used to capture, research and analyze information such as customer behavior, purchasing preferences, and demographic information.
Customer Management needs a plan to operate CRM  marketing as an ongoing business process, not simply a campaign and a few sent emails. Customer Management has to target a mission and a differentiated story/value to deliver. Therefore, for applying successful customer Management, it is required to have a deep understanding of customer personas in CRM. 
CRM software has to follow a process to align with other sales/marketing/loyalty initiatives as well. In order to have it crisp and clear, a company needs well-defined business goals for Customer Management, whereas a measurement plan for the goals provides both insight and progress toward the sales & marketing goals.
Finally, as a company is expected to grow rapidly, if it applies unique CRM Strategies and Customer Management, the CRM tool of that company has to have the ability to scale over time (i.e., to comply as your firm gets bigger)
At the top of the day, a roaring customer relationship, beginning with marketing automation and continued with client success, is all concerning understanding your customers. Whenever a potential client interacts with you – whether or not it's visiting your website, or clicking on Associate in nurturing email, registering for a webinar, or downloading your presentation – tells you one thing: It tells you one thing concerning who they're and what they need and want. It's vital for you to trace, measure, and analyze those interactions so as to know them and to sell smarter. The driving plan behind your marketing automation technology ought to be to assist you are doing that – to allow you to perceive your customers and every one of those interactions in a very single place. In short, your promoting technology ought to change you to speak along with your audience in a very manner that produces sense.
Within the scope of marketing, marketing automation works together with CRM. Marketing automation provides sales-enhancing or sales-facilitating solutions by automating marketing processes in an integrated manner with the digital environment. You can realize many concepts such as sending bulk e-mails, creating workflows, task management, automatic e-mailing, and campaign management from marketing automation. Just like in Prosoftly marketing automation, solutions with smart campaign features start to know your customer as soon as the customer's personal information arrives and you learn which product they might be interested in.
Thanks to the marketing automation in the system, we can pull the contacts in a certain sales process, create a separate contact list and send automatic e-mails to these people. For example, let's say you want to send a customized mail to 200 different people. With the automation system of some CRM systems, it is possible to send e-mails to 200 people at a time.
If you are an entrepreneur trying to sell online, you should have a lot of data at hand. Marketing automation solutions can make sense of this data. It has the feature of getting data from various data sources. You can make predictions about the value that the person or company will provide to you by making sense of this data, subjecting it to automatic machine algorithms. Using the demographics of the person, they can show you how much they visited, how much they intend to buy, and give you meaningful campaign suggestions.
Marketing automation and CRM create serious opportunities. After sending the campaigns, you can measure the campaign performance and get your suggestions related to those campaigns from the software.
The better you know your customer, the more personalized your product and service delivery can be. For this, it is necessary to keep data and integrate social media. Thanks to the integrations, you can access all the information of the person from his / her birthday to his / her pleasure. As a result of the data you will receive from the integration, you can carry out activities to increase sales.
Lead Scoring is a method for evaluating leads in a CRM in two aspects: 
Firstly, by the completeness of the profile (explicit information), 

Secondly, by the reaction of the lead on communication (implicit information) 
Lead scoring helps evaluate sales opportunities.
Explicit scoring: Qualification criteria for lead scoring
The explicit information related to the profile of the leads. For example, the following things are asked:
Position in the company

Industry of the company

Number of employees

expected annual sales

Etc.
Depending on the result and taking into account all information, the lead is divided into possible levels with regard to its potential for sale (for example A, B, C).
Implicit scoring: Measure interest 
The implicit scoring records and analyses the reactions of the prospect to the communication with your company, the so-called "Digital Body Language". To what extent he downloads documents, react to e-mails, attend events, or visits your website. Different points are awarded for the respective activities, these are added and thus result in a key figure for the activity of the lead.
Tagging Function: Customer / Lead / Deal Segmentation
Simply put, tagging is like putting reminders for different cases. In other words, if you want to classify something into different groups, you may utilize different tags to differentiate among them. 
CRM Tools have to flexibly enable you to put tags to different customers, deals, leads, support tickets, campaigns or contacts, as it will give you easy-to-use options to generate reports or filter at one click. Let us have deeper look at the advantages of tagging function of a CRM Solution:
Tagging at CRM enables you to create a successful strategy

It improving the user experience

Tagging can be used in delivering personalized content or campaign for the prospects

Tagging enables integrating all marketing systems, as you may filter all the different data just by clicking on one specific tag if properly used.

CRM Tagging streamlines marketing processes 

Tagging in a CRM enhances  measurement and reporting 

Finally, tagging is very useful in achieving data consolidation.
E-mail marketing and e-mail automation are outlined as "a strategic promoting approach centered on making and distributing valuable, relevant, and coherent product /service offer provide to draw in and retain a clearly outlined audience—and, ultimately, to drive profitable client action."
With email automation, you give a superpower to salespeople. You can send emails to many people with one click. Email automation allows marketers to schedule targeted messages or send them when a user takes a specific action on a website. It is a very effective method of nurturing existing prospects, but at the same time interacting with new and past customers, reminding them of your brand, and helping them out with new opportunities, promotions, etc. can also be used to inform about.
The feature of sending bulk emails is also very important. The tagging and filtering features here give you an opportunity to make your campaign effective. With Prosoftly CRM, you have the opportunity to assign tasks forward and create repeatable tasks. For example, on the 3rd of each month, you can automatically send e-mails to the people you designate collectively.
Campaign management should be a CRM Module of a web-based application. Operations related to campaign management will be provided with a database connected with screens. The general purpose of the screens is to easily define and manage the campaign and to support the management of campaign returns by making the campaign announcements on the basis of the selected activity.
In general, the Campaign Management Module functions are specified as follows:
Managing (deleting, adding, listing, updating) Activity and Activity templates

Management of campaign features and characteristics (delete, add, list, update)

Management of product catalogs and offers within the campaign (deleting, adding, listing)

Campaign target audience management (delete, add, list)

Marketing list management (file import, search, delete, add)

Management of campaign announcements (delete, add, list, update)

Management of the campaign testing process

Management of the campaign approval process (assign, accept)

Management of campaign returns
The module will ensure that the campaigns are managed within an integrated tool. There may be steps belonging to the CRM tool in general and activities related to these steps.
Activity templates can be created, activities can be defined for the campaign and the dates on which the activities should take place can be tracked.
The module will ensure that the following information is kept during the campaign planning phase:
Campaign budget

Campaign cost

Campaign expenses

Campaign documents

Purpose of the campaign

The (numerical) goal of the campaign
The module will enable the creation of campaign types and related campaigns.
Campaign types;
Retention

Acquisition

Upsell

Churn
It will be ensured that the features of the campaign are kept. These properties will be identifiable:
Free additional product/service

Reduced
Campaign statuses;
Planning

Test

Passive

Confirmation

Open For Sale

Closed for Sale
will be in the form.
The offer can be defined as a bundle and simple to the campaign. Discounts and commitments will be managed depending on the offers.
The module will enable the campaigns to be defined to the channels.

The module will allow the campaigns to be copied.

The pilot campaign can be defined.
The module will allow the defined campaigns to enter the approval process before they become active:
Campaigns can be approved

Can be sent back for revision

Can be refused
The campaign can be announced to the market segment to be defined. Announcements can be applied to customers and prospects and can be made via e-mail, SMS, methods.
Customers or prospects will be able to return to announcements and management of campaign returns will be ensured.
The module will provide reporting of campaign returns.

The module will enable the definition of the campaign KPI parameters.

The module will ensure that the campaign reports are received.

Campaigns will go through the A/B testing process.
Basic Requirement for CRM Campaign Management Tool
The same campaign should be able to be defined for different campaign types. A campaign should be both an acquisition and a retention campaign.

The campaign code must be able to be generated by the system.

Campaigns can be marked as pilots.

All the information on the campaign should be updated in the planning status.

Campaign changes will be logged.

Discount and commitment definitions will be made within the product and offer management. No additional discount or commitment definition will be made for the campaigns.

Campaign definition operations should be made only by certain users, and defined campaigns should pass the approval stage.

Marketing lists should be able to be created for customers or prospects.

Campaign announcements should be made via e-mail, SMS, phone, etc.

Templates for announcements should be able to be created. Template formats must be in * .html, * .txt, .. format.
Enterprise e-commerce companies and their web pages accumulate critical data like a gold mine. This mine is only accessible and positively used through a capable and customized eCommerce integration with CRM systems.
ECommerce is an enormous competitive area.  Hence, eCommerce websites of big companies seek real-time data and productivity increase in order to excel in the competition. The reactive approach is fast becoming rendered obsolete by predictive contingencies made available through systems integration. E-Commerce Integration of CRM Tools provide critical advantages in the following topics
Performance Increase among Employees

Personalized Marketing

Great opportunity for up-sell or cross-sell

Great chance to have success for a specific marketing campaign

All the demographic data and purchase data meet to give a unique marketing persona.
Mobile Application for CRM
81% of marketers now use their CRM Tool from multiple devices. (Algoworks, 2018)
Businesses need flexibility in the digital age. A CRM that doesn't let you remote or mobile access is not a good option for companies, such as those who have employees working in different locations.
Without remote access, you can't add the data easily while in a meeting, client's office, or anywhere. This may not be a deal-breaker for some companies, but it will not be a good first impression for clients. That's why a mobile app for CRM is one of the most crucial features.
A mobile CRM is understood to mean customer relationship management software, which is especially functional on mobile devices such as smartphones or tablets. This mobile version is compatible with the corresponding desktop version of the CRM system. This means that data is flexibly available and work is also possible in real-time while on the move.
This development is also evident in the world of work: e-mails and chats are increasingly being accessed on the go. The expectation of being able to access any information at any time is growing. A mobile CRM enables important business data to be called up via smartphone and the like. For example, you can view and edit customer data while on the move. This enables you to offer your customers the best possible service. Especially in sales, a mobile CRM facilitates the way of working and ensures location-independent and flexible collaboration.
Comprehensively, your marketing team relies on social media to reach out to your existing and potential customers. Obviously, the Social CRM feature is multifaceted as it integrates with social media channels. As an example, integrating Twitter and Linkedin is a good starting point for those who are seeking a variety of techniques to connect with their customer base and enhance their data integrity.
Tools for social media monitoring offer a variety of functions that are no longer covered in the context of smaller analyzes by offers such as Facebook Insights or Twitter Analytics. This includes, for example, the closer observation of competitors, current topics, and opinions. You should use CRM social media monitoring tools if the following aspects are important to you:
Comprehensive competition analyzes and benchmarks

Key figures for the classification or development of your own brand image

Screening of top topics and trends

Get to know the target segment better

Listen to opinions about your own company

Lure opinion leaders/influencers

Early notice of emerging shitstorms

Use of data for product/service user experience optimization

Pulls-In Contact Social Media Profiles
CRM Capabilities: Service ( Customer Support ) Management
CRM's are capable of serving as an agent for managing your relations with customers after sales, as well. In other words, to deal with customer support, CRM tools are very beneficial for client portals and service purposes. 
Customer service is poised to supplant price and product as the number one differentiator among brands. (Walker Info)
Product and Service Management
Product and service management is the process of designing, creating, and maintaining a product or service at all stages of its life cycle. It includes various operations, after-sales, customer support, service, marketing, and sales-related activities. In fact, CRM Software is most commonly used by sales and marketing professionals. However, there're many other professionals worldwide who use CRM intensively for different reasons. Increasingly, CRM software is used by customer service and support teams to manage their post-sales service, too. 
The After Sales Management is part of marketing - more precisely, Customer Relationship Management (CRM). In the past, after-sales management was also known as customer service. In contrast to "hard selling", it serves to look after a customer even after purchasing a product or after using a service, i.e. to bind them to a company in the long term. After-sales management is a service that is carried out after the sale and is particularly important for key accounts, i.e. major customers. In After Sales Management, the customer relationship does not end with the conclusion of a deal between the sales representative and the customer, but rather begins from this point in time.
If there are returns, complaints, or other contacts made by the customer after the purchase, the company must act professionally and, at best, to the customer's satisfaction. If you miss the chance to satisfy the customer even after the sale, you also miss the opportunity to use the potential that the customer has already won. Furthermore, the positive image of the company is strengthened by many satisfied and loyal customers. Word of mouth also brings many new prospects.
After-Sales Management tool of CRM system provides efficient support for complaint/requests/suggestion ticketing system
Process support requests quickly and competently

Impress your customers with the fast, targeted, and clear processing of support requests.

The system supports you in the organization and monitoring of all processes related to ticket processing.

Clear ticket display

Automatic organization of processing operations

Concentration on technical and content-related challenges
Customer Loyalty Tracking
68% of customers decide to leave a business due to perceived indifference towards them. ( Tech.co )
Long-term customer loyalty is provoked by the high level of customer satisfaction when concluding a deal. The point is to ensure customer satisfaction through various measures in customer relationship management and consequently to turn them into loyal customers. The following applies: the more cost-intensive and long-lasting the product/service, the higher the chance of customer loyalty to the company.
Customers who only make selective purchases in your company bring you short-term sales, but no opportunities to exploit your potential. Sales are usually limited to the bare minimum and it is more a matter of chance whether you visit your company again or whether the competitor is ahead of the curve with the next purchase. 
So you cannot count on sales, which on the one hand leads to a lack of knowledge of your customers, as important information on shopping behavior remains hidden from you, and on the other hand, it significantly limits your planning security. So you have to manage to attract the customer to you on a regular basis so that you become a reliable partner for him. The customer should build trust in you and thus meet his daily needs - in the freestyle, he will then recommend you to his friends and acquaintances. Only in this way can you manage to adapt your offer to your customers in a targeted manner and thus satisfy, retain and retain your customers.
However, this presents many providers with the challenge - sometimes unconsciously - of preventing customers willing to change from leaving. Using customer loyalty tools of CRM, you may easily retain your customer and make them loyal to your products or services.
Another Customer Relationship Management example of a customer loyalty tool is community building . Let satisfied customers inspire new customers and use them as advertising media. Let satisfied customers act as advisors to dissatisfied customers and let new customers gather inspiration from existing customers.

Customers spent 19% more at a company when they felt they belonged to that company's online community. (University of Michigan)
An important topic for the future is the continuation of the customer loyalty strategy in the direction of personalization, namely one-to-one communication with your customers. This is certainly one of the keys to future success. The aim is to provide the customer with exactly the product or service via the channel with communication at the time that meets his needs. So the probability is highest that he will win the displayed offer.
Segment-based communication is the first step towards implementation. Your customers may be similar in terms of shopping behavior, but they are still different. Get to know your customer and gather information about them to understand what makes them tick and what they need. 
What Should Be Considered When Choosing CRM Tool?
Obviously, trusting a company is significant for customers. And, a trustful relationship works out more than just customer satisfaction. Namely, customers who trust your company are more loyal. Moreover, they may recommend your company more willingly. They may buy more products and services; and, buy more frequently!
Thus, customer relationship management feeds your company and backs more than you estimate. Therefore, it can not be ignored for a company that wants sustainable, and great growth. Now, we may examine consideration criteria for a CRM selection to realize the knowledge that we have:
When choosing a CRM program, companies should consider what kind of sales process they have. Today, companies working in B2B must definitely save their interview notes in a system. E-mail, telephone, social media, fair participation, etc. They must definitely enter the details of the interviews that take place over them.

A CRM program should have the feature that it can see the sales processes, "first meeting", "meeting", "proposal submission", and "proposal evaluation".

Sales opportunities should be able to be assigned to any salesperson. A person should be responsible for a sales opportunity.

There should be e-mail notifications. When there is a sales process, the system should send automatic notifications. The system says, "Person X met with firm Y and created opportunity Z." It should be able to send automatic e-mails such as. Businesses may not always have the opportunity to enter the CRM system, so automatic emails from CRM should be sent to the mailbox.

It should allow detailed reporting, graphics, and detailed analysis.

If there is a contact list, it should have the import/export option or it should be able to talk to another system.

Another feature that does not exist in every program is the

automation

feature. According to the stages in the sales process, it should have the features of sending automatic e-mails to the contacts in the sales opportunities and creating personal e-mails. E-mail automation greatly reduces the burden on sales personnel. The most important point of sales is to follow up the sale. While the momentum is caught, it is very important to end the process. If forgotten occurs, the momentum disappears, the process can be resumed, or even the opportunity may be lost. The most important contribution that can provide momentum is e-mail automation.

A salesperson says, "Attract my customers who are waiting for an offer." Let's imagine what he said. Suppose there are 100 people. Emails specific to these 100 people can be sent with a single click on the system. Prosoftly we provide all these features in our product.

The CRM system must be online. Today, systems that we call "on-premise" do not contribute much to the employee. Systems that we call on-premise are systems that the employee cannot access from another computer. A system with an online and mobile application should be selected.

A CRM program should manage the customer, opportunities, and contacts.

Must have tagging feature.

It should be included in the reporting systems that will allow analysis.

Document management should be able to. Documents must be able to be added to the system.

It should perform product and service management. Sales and opportunities must be matched with a product or service. In this way, we can analyze our product portfolio.

It should offer opportunities related to the marketing funnel.

Must be able to manage tasks. An outside salesperson should have the opportunity to inform the sales personnel working inside the system via the system.
Which companies need a CRM? - 5 Most Popular Businesses -
If you want to introduce a CRM system, you should first consider where the focus of customer relationship management lies. This depends on the one hand on corporate philosophy, on the other hand, the size of the business also plays a decisive role in the need for a CRM Solution.
6 Types of CRM Software: Which fits your business ?
There are 6 types of CRM software - operational, analytical, social, collaborative, order management CRM, and all-in-one CRM. Even though there are 6 distinct categories, very few of the popular CRM solutions today cover all 6 CRM approaches.
The key point as a potential CRM user is to determine which fits your business well? CRM doesn't just keep your contacts organized, it offers lots of tools to help you boost sales and generate more effective marketing campaigns.
The thing in the search for perfect fit CRM is that you should look for in a CRM is ease-of-use. If your employees can't figure out how to use software quickly, simply they won't use it. CRM adoption is a widespread problem because employees either don't know how to use theirs properly or they see it as an inconvenience. Even if a CRM is simple enough to use, it still needs to integrate smoothly with the processes your company has in place or you will need to create new processes.
Among the type of CRM Software, the most important criteria in the search for the best CRM fit for your business is how easy it is to use and adopt.
So, let's have a deeper look at the 6 types of CRM Software:
Operational CRM
Operational CRM connects three main components - sales, marketing, and service to streamline the business process of an organization. The most prominent of the 6 Customer Relationship Management Software types, operational CRMs focus on all stages of the sales cycle. This means entering the contact information for a prospect or converting that prospect into an actual client (sales automation), automating repeated tasks like sending out marketing emails and posting on social media (marketing automation), and finally supporting customers through multiple channels such as phone, ticketing portals, email and FAQs (service automation).
Analytical CRM
Analytical CRMs systematically analyze and present collected customer data to help business managers and company owners make more informed decisions.
The work of an analytical CRM happens behind the scenes. These platforms take the raw customer and market data and then use techniques such as pattern recognition, correlation, and data mining to turn it into useful information. This information is vital in customizing the marketing, sales, and support efforts for maximum efficiency.
Social CRM
Social CRM is to be understood as a multiplication factor of the usual customer relationship management. While classic customer management is about creating trust, increasing satisfaction, and educating customers in the long term, Social CRM picks them up wherever they are.
The Internet 2.0 and 3.0 largely rely on apps. When it comes to mobile use, messengers and social networks dominate the market. For many people, Facebook, Twitter, and Google are "the Internet". And this is exactly where Social CRM comes in. You no longer just get to know your customers' buying habits, but thanks to cookies, statistics, and interaction, you get to know your target group yourself, up close and personal.
Opportunities such as the positive presentation of your own industry via YouTube channel or useful content in your own blog are simply given away. Of course, social CRM is not a miracle cure, but it offers much more than just the chance to observe the real behavior of customers and to draw conclusions for the company's marketing strategy.
For example, web monitoring is about finding out what customers, competitors, magazines, and review columns think about you and your products. In the past, you only got this unfiltered view through expensive market analyzes and surveys. Nowadays, Social media gives you almost unlimited amounts of data to operate social CRM.
83% of all customers think it is good when companies answer questions directly on a social media channel. In a generational comparison, it is 90% of all Millennials and 79% of all Gen Xers and Baby Boomers. (Source: sproutsocial )
Social media links are necessary in the long term for every CRM system in order to see, meet and observe customers where they are actually located and where they are informed. Marketing, sales, and service are all represented in one way or another on social networks these days and therefore miss out on immense opportunities to get in touch with customers or prospects when they are not active there. In addition, the 360 ​​° view of the customer will never be possible if companies refuse not to accompany large stretches of the customer journey (on social networks) in detail.
Order Management CRM
The classical approach to CRM leads us to the fact that if any company needs enormous sales effort and remarkable growth, it should definitely use CRM platforms. 
But, counter-intuitively, what if a regular company doesn't need growth or doesn't need a particular sales effort?
Do such companies exist?
The answer is YES, they do exist. To be honest, they make more than half of the entire business world: Surprisingly, most of the heavy manufacturing industries such as the Automotive Supply Industry, Casting industry, White Goods Supply Industry, Shipping industry, defense industry, textile supply industry are generally not in urgent need of an extreme growth or many new customers at a given time. They usually have a few long-lasting customers, which usually know each other for many years and they rarely show signs of a dynamic search for new prospects. On the contrary, such companies concentrate on the quality of the product and efficiency, so that they can compete in price. 
So, the question is: Such companies, what they do with CRM? Do they need CRM, at all?
The proper answer would be a big YES. They, definitely, need a CRM, an Order Management is driven CRM.
An order management tool or order management software enables orders to be managed from acceptance to dispatch of finished goods. Typical order management systems provide customized tools to suit workflow, business rules, integration requirements, data collection requirements, merchandising techniques, and multichannel sales strategies. Order management applications typically offer real-time integration with inventory control, order management, payment processing, marketing, and customer relationship management to optimize costs and increase efficiency. As a trendy topic, Order management software is linked to E-Commerce software and order entry software as well. 
CRM Example: Order Management CRM in Flat Sheet Metal Sector
Let's look at a CRM example and see what a typical "Flat Sheet Metal Laser Cutting" companies use CRM step by step basically as on Order Management CRM.
Customer Offer Request

Mail to Info: There is a project in its attachment (document with AutoCAD .dwg extension)

Mail to Info: The job is defined by writing. (Word or document with mail body)

Phone call. The job is defined by phone.

A note is taken by filling in the relevant form.

The filled form is approved by the customer.
iii. It is sent to info via mail. (Pdf document)
Meeting records

A note is taken by filling in the relevant form.

The filled form is approved by the customer.
iii. It is sent to info via mail. (Pdf document)
Selection of personnel who will work on the job to turn it into an offer.

Description: Technicians work on the project and fill out a soft form (Proposal Preliminary Information Form) containing at most 10 different information. Basically in this form;
Cutting Weight

Material quality

Machine working time

Twist weight

Material quality

Number of twists

Estimated start date

Note for needing attention, if any.
iii. It creates the "Shipping List" form together with the Proposal Preliminary Information form.
Who To Do It: Manager or Assistant

Selection and transmission: All documents are sent to the technician he chooses.

Work on the project for the proposal. (It is more appropriate to use A, B, C, D instead of names)

The technician works on the project.

It negotiates with the customer for incomprehensible issues. He notes his grades on the "Bid Preliminary Information Form".

Writing the "Offer Letter"

The assistant writes the "Offer Letter" on a standard form in accordance with the "Bid Preliminary Information Form".

Submission of the offer letter package for approval.

Assistant sends "Offer Letter" + "Offer Preliminary Information Form" + Projects or notes based on the proposal as a package for approval.

Confirmation or correction.

It is approved and forwarded to the Assistant.

In order to correct the error, it is sent with a note to the technician who prepared the "Bid Preliminary Information Form". (Sent via an assistant or sent to assistant and technician!)

Correction is made.

It is sent to the Assistant as a revision (This should be highlighted or followed).
iii. The assistant sends it as a package for approval again.
Confirm or repeat the same cycle for correction.

It is approved.

Assistant sends the Offer Letter to the customer by e-mail.
iii. Customer approval
Customer confirms.

The customer responds negatively. The offer closes.

There is no response from the customer. There will be no return from the customer within a specified time. The customer is called or asked by e-mail.

No decision has yet been made. It has to be searched again at an appropriate date.

It is negative. The offer closes.

The offer turns into an order.

The assistant converts the proposal into a "Work Order" form.

Sends for approval.

"Work Order" is approved.

Which machine to be made and/or what should be paid attention to are written on the form.

Sends it to the assistant.

The assistant transmits the "Work Order" to the production manager / gives a printout. It puts a "Shipping List" in the work order attachment.

Production is done.

As the production is completed or completed, it transmits it to Quality Control.

Realized production time taken from production is written on the form.

Quality control is done.

It checks according to the Delivery List and the projects if necessary.

Approvals. For shipment.

Refuses. Transmits to the assistant.

Shipment is made.

The entire production is done in one go. The shipment note is checked/written according to the "Shipping List". The "Work Order" closes.

Production takes a long time. Shipments are made several times.

Each shipment is checked/written according to the "Shipping List". It is written in the remaining amount column.

The "Work Order" of the job completed according to the "Shipping List" is closed.

Invoice

The closed work order is converted into an invoice by accounting.

Part outgoing shipments are converted into invoices in between in accordance with the offer or held for the completion of the job. Assistant.

Period-end checks (Monthly or quarterly, annually, etc.)
The data required for the items written below must be able to be retrieved!
"Work Order" control

By the assistant; The actual time, weight, etc. information coming from the Closed Work Orders and the "Bid Preliminary Information Form" information are written on a table. Any errors are detected.

Mistaking personnel is informed/warned etc.

Actual order control: Weight, number of offers, etc.

Shipment error control: Waybill / "Shipping List" comparison.

Cost comparison according to "Bid Preliminary Information Form". 
All-in-one CRM
All-in-one CRM Solutions might have different meanings for different people. However, what we propose for the meaning is, All-in-one CRM is the modern ERP Software for the professional service industries. In other words, CRM becomes such a powerful tool that service businesses utilize it as a full package business management tool with a focus on customers.
ERP ( Enterprise Resource Planning ) software is generally used by manufacturing industries. Hence, they have MRP, Inventory Management, etc modules. However, if you are in a professional service industry such as agencies, consulting firms, software companies, healthcare businesses, or wedding organizers, what you need is always customer/client-centric: Client Portal to manage all the interaction of the delivering the service, sales force automation and contact management for sales, contract management for the managing the legal aspects, keeping the record of the billing, basic HR and staff management, customer support and marketing tools for reaching out to prospects. 
All these modules are indeed available in state-of-the-art CRM Solutions such as Prosoftly or a few other brands.
That's why CRM is actually the one and only governing software tool for professional service industries.
Collaborative CRMs
Finally, collaborative CRMs focus on facilitating and promoting communication between your teams and departments, as well as external stakeholders such as vendors and suppliers. Sharing customer information across various teams helps you sell more effectively, improve customer retention and personalize the services offered.
It is fair to say that most competitive CRM solutions in 2023 strive to span just 3 categories and offer operational, analytical, and collaborative capabilities on the same platform. Let's take a broader look at how to choose the right CRM platforms for your own business.
How to choose the right CRM for your business ?
Nowadays, we are living in the communication era. Mass communication has become daily tools that we can reach, and use easily. However, this proceeding in technology has brought some challenges to humanity. Especially in business life, competition has increased dramatically for two decades. Understanding this reality requires doing what is essential for firms to compete with each other. Truly, customer relationships and networking play a big role in success in business life. Thus, we can conveniently claim that Customer Relationship Management is a greatly important issue for a company, a firm, or an individual. Then, it can not be ignored. That's why choosing the right CRM for your business is essential as water is essential for a human being.
To start with, , as a company, know yourself! Being aware of your company's aim, and its potential is the main necessity. Recognizing your firm leads to setting rational goals. Actually, this is not just about the customer relationship management, but about helps of it. In order to benefit from it, you have to draw your path, according to your current conditions. That's what I mean while saying "Know yourself!"
When you manage customer relations, your business naturally has some features. Specifically, managing your relationships includes being punctual, and being confidential. Because you pay attention to communicate respectfully with your customers, it will pay-off. Furthermore, if your system becomes more professional, this gives well information to your customers. Professional view may makes sure your clients to enlarge the trade.
So far, we have said almost all about customer relationship management formally. However, how can you choose the right CRM for your business? 
So, let us examine the appropriate questions to be asked in the journey of choosing the right CRM:
What main function do you need for the software to accomplish ? 

Who will be using CRM eventually ?

How complex are your initial CRM activities at the beginning ?

How easy is it to use ?

Is the CRM system able to adapt to growth as the business grows at different paces ?

How important is it for you to have particular business-specific solutions / features ?
What main function do you need for the software to accomplish ? 
You know your company needs better than anyone else. So, first thing to do for choosing the right CRM is to decide which basic functionality do you need ?:
Is it a set of sales management functions ? Or do you focus on more marketing related functions ? Or are customer support functions the essential CRM functions that you basically need.
After deciding the principal functions, you have to answer the need for the peripheral CRM capabilities such as:
Managing your sales from start to finish

Providing an effective customer profile

Generating reports to see about your activities that you can reach your KPIs or not

Setting appointments, meeting and manage your calendar

Assignin customer follow-ups to specific sales or customer success employees

Keeping company documents like contracts, proposals, invoices, and more

Import and export data through a CSV or other file format

Providing remote access through mobile CRM apps for information

Integrating with your email service and offer email automation

Creating  auto-reminders for contacting customers or following up about situations

Including a system for invoicing and billing

Regulating tickets for effective customer support.
Who will be using CRM eventually ?
Second action to be taken in choosing a CRM Software, is determining who will be the actual users of CRM within the company. They could be sales preps who are in the field. Or , most users might be marketing experts who are trying to manage effective marketing campaigns. Other options could be customer support teams, who are assisting the customer throughout their after sales journey. 
On the other hand, this basic question would also set your mind clear ih the CRM choosing process:
Are they managers or C-Level executives, who desire to use CRM in the company or are the customer reps, sales reps or marketing personnel who creates the pressure to adapt a CRM ?
If your answers are honest and analytic, you are just about to choose the best CRM for your company. 
 How complex are your initial CRM activities at the beginning ?
At a business level, complexity of a task matters a lot. So , why do you need to make your life a burden by investing in a highly sophisticated, complex and demanding CRM Tool , if your need is just keeping meeting records, your offers and a few sales reports  in a single platform ?
Vice versa case is also as disappointing as the first one. If you have to deal with million level customers, customer support tickets, at a multinational organization with different Softwares running independently all over the world and as CRM, what you have is basic functionalities with weak scaling options? 
That won't work either. 
So let's not get confused: Determine the complexity level of your Customer Relation Management needs first; and then go after the appropriate CRM Solutions, tailored for your CRM Complexity level.
 How easy is it to use ?
There is one definitive rule for all Software industry nowadays:
No matter how capable and sophisticated your software product is, the software should be easy to use.
In the century of digitalization and speed , being sophisticated, highly capable and highly functional can not be an excuse for a software product for business to be somewhat not easy to use.
So, those companies who are looking for a CRM Solution have to decide the level of the CRM Usage easiness, not whether it is easy or difficult to use.
Is the CRM system able to adapt to growth as the business grows at different paces ?
As one desk business , you may be satisfied with the CRM functions and capabilities at your hand. But, if your desks become crowdy all the business hall long, can your CRM keep up with the growing business and growing size of people ?
Here are a few examples of your growing company CRM adoption needs: 
Database adaption

Data import function

Backend speed

A CRM action speed when the contact table grows from 10 to a Million. 

Sales force automation function, as sales rep grows from 1 to 100, let's say.

Handling customer support needs, as it's really pushed to function at highest performance

The workflow function, if available, to manage all the routine tasks the team does regularly.

Integration requirements that arise when you become big enough. ( For example, if you have one employee , you don't need a HR Management function, but how about 200 sales & marketing people are around, and you are messed up with all the sales bonuses you need to calculate and pay because of the lacking HR function. )
 How important is it for you to have particular business-specific solutions / features ?
The last question you have to answer in determining the right CRM for you is whether you need business specific solutions / features at all cost or not .
Business is the art of making money using finite and limited resources. Therefore, if you want to adopt a CRM, you have to evaluate honestly, whether you need specific features for your industry in CRM software or not. 
In other words, what is you ultimate Customer Relationship Management system you want to build in your company ? Is it possible to construct it from flexible, all-one-in CRM solutions or do you need a predefined set of features for your industry, no matter what.
Generally, business specific CRM solutions makes sense for sectoral transactions but, as a drawback, they usually lack flexibility and multitasking.
As the uses of CRM continue to grow, there is an emergence of platforms that combine CRM and client portal together with task management, KPI and OKR tracking for complete all-in-one business management solutions. This makes sense: if the biggest player in your business is the customer, why not unite your customer data and your company data on the same platform?
Tracking deal stages and customer interactions are vital to building successful relationships, but wouldn't be setting and tracking your team and company objectives from the same portal also facilitate growth? What good is customer data if you can't make it work towards helping you decide on the next objectives for your departments?
We have compared and researched a multitude of CRM options available today and analyzed the most recent trends of 2022. With AI and machine learning expected to make an even bigger impact on CRM functionality in the next 2 years, here is what you want your CRM to have under its hood in the near future:
This is the way we see the future of CRM: there will be a move towards uniting the CRM and client portals with business management and planning tools for an all-in-one, AI-driven business operations portal. The whole company will execute sales, interact with clients, see yearly objectives and update weekly tasks in the same app.